I have postponing the inevitable for a few weeks: blogging about my trip to Mt. Rushmore and my 50th state. First and foremost, I have to thank Amy for being so willing to go with me and join in on the ever-so-long roadtrip. So much more fun when you have someone to share the twizzlers with and make sure that you get to North Dakota
before midnight
on July 4th. Here we go.
There was some minor drama getting to Denver, Colorado on July 2, but I'll skip that part and tell you that Amy and I both arrived in Denver safely on July 2 and made it to my aunt & uncle's house at about midnight. Many thanks to them again for letting us stay.

Saturday morning Amy and I had a 7 hour drive ahead of us so that we could get to South Dakota.
Prepare yourselves for some photos, people.
Here we are in Colorado, right before we got to Cheyenne, Wyoming.


Self portrait!


And a few hours north in Wyoming...


And then we arrived at this juncture. Obviously, we chose to go to Manville. Unfortunately, we didn't find any that we wanted to bring home.

As we got closer to South Dakota, there was a huge storm brewing behind us. Blue skies in front, black clouds behind.


Amy took this awesome photo of the storm catching up with us.


We got into South Dakota at about 5pm and passed the signs for the Crazy Horse Monument while trying to find our hotel, so we decided to stop. The Native American tribes in the area commissioned a sculptor to carve a statue of Crazy Horse into the mountain in the 1930's. All that has been completed at this point is his face, but it is HUGE.
Click here
to get an idea of how large just the face is. We watched a really interesting movie in the visitors center about the carving of the mountain and surprisingly, this is a privately funded sculpture that when it is finished, will be the largest in the world.
Here is a 1/34th scale model of what it will look like when it is completed. Seriously, my grandkids may not see it finished at this rate.
We continued on our journey to find our hotel when we decided that it would be worth our while to go ahead and see Mt. Rushmore since we were awfully close. Squee!
Apparently "everyone" says how small it is in real life, but I didn't think it was small at all. In fact, I thought it was very beautiful and a wonderful tribute to men who made America great.
Yep, taken from my camera. Such a beautiful facility too.
Amy and I went for a little walk on the "Presidential Trail" where they had information on why these 4 presidents were selected and important things about them. I could not get over how beautiful it was there. From inside a little cave, you could see George.
Luckily the gift shop had some free maps and we were able to locate our hotel. It was only 10 miles away, but we had no idea how awesome those 10 miles would be. We drove through about 4 of these:

(and if you squint your eyes and stare real hard, you can see that we could see Mt. Rushmore through the tunnel!)

And then there were these beautiful narrow roads going through the forest and mountains.


How narrow were they Amy? Very narrow, as you can see. Obviously not good for large trucks.
Having grown up surrounded by trees in North Carolina, I really loved how green and lush it was. I seriously thought that South Dakota would just be prairie. Boy, was I wrong.
We stayed in the State Game Lodge, which was apparently the summer White House for Calvin Coolidge a while back. Not a bad place to stay - the staff was all super friendly and helpful - they even let us eat dinner in the restaurant after it had closed when we said that we were hungry!

I already posted this on my blog as the photo of the day, but I still can't believe I ran into Jonathan (Elvis) McKaskey at church on Sunday. I was able to meet his darling, pregnant wife also. Hadn't seen him since I was a wee teenager.

It was raining while we were in church, so afterward, Amy and I decided to drive out to the Badlands and check them out. This was our first experience learning that state highways in South Dakota can be gravel.
Badlands!

I would say that it is like a mini Grand Canyon. One minute you're in the plains and then the next minute, the land drops off and turns into these little canyons. Really, really beautiful.

And while we were in the badlands, we spotted all sorts of wildlife: prairie dogs, badgers, millions of birds, weird sorts of deer, mountain goats, and of course, buffalo. I am afraid to say that I think the buffalo were grateful for the visitor information booths. Please watch the video below:

Because we like to fit in as much as we can in one day, we were off to see Devil's Tower, which you maybe recognize from "Close Enounters of the Third Kind." We drove into Wyoming and decided to drive through the Black Forest in Wyoming to get to Devil's Tower. We learned once again that state highways can be gravel, but this time in Wyoming. During the drive, we saw what had to be the wreckage from a tornado.

I must say that one of the funniest things about our trip was that we had Sirius radio, which turned out to be a lifesaver when we were driving through areas with zero cell phone reception. We turned on BBC Radio One to see what the British were up to and we were rewarded by an entire Twilight segment where the DJ's were reading parts of the book out loud (and making fun of it, you should note) and then they had interviews with most of the major actors from the movie. We listened intently for hours. Best 4th of July present ever, I'd say. After 30 miles of gravel state highway, what did we see? Devil's Tower, sticking up out of the land like a sore thumb.

This thing is huge. 867 feet from its base. That is like an 86 story building!!!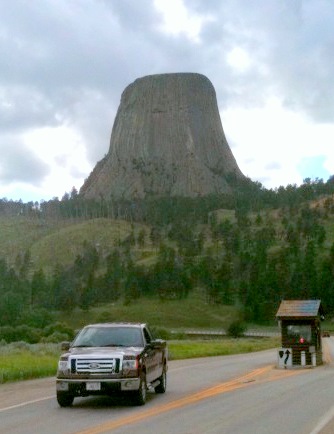 We backtracked a few hours, made a quick change in the car and made it to Lead, South Dakota where we were going to watch fireworks that night. Of course I emailed ahead to the Chamber of Commerce to find out where we could enjoy a little festival and fireworks. And what did we have for dinner?
Yum.


Then we settled down to watch the fireworks on the side of the hill overlooking the open cut, or hole where the mine is. Perfect place to watch fireworks.

Here's a little snapshot of what it looks like in Lead, SD. Reminded me of West Virginia. Small mountain mining town. Also, it was freezing. But at least it wasn't foggy like San Francisco was on the 4th.
But then I started to get nervous that we wouldn't make it to North Dakota, my 50th state, before midnight. I really wanted to make it there on the 4th of July. The fireworks started at about 9:45pm since it took that long for it to get dark, but the fireworks we did see did not disappoint. Please note the light on the horizon. Really wasn't that dark.
I am not even exaggerating to say that we drove into North Dakota at 11:59:30 PM on the 4th of July. We stayed at this very classy place, the North Winds Lodge. It smelled like an ashtray, but other than that, we were grateful for a chance to sleep after a very long day.
And here I am doing the Toyota jump in Bowman, North Dakota on July 5th after getting cheese sticks and a V8 at the local gas station. Well, and twizzlers, of course.
We had about a 10 hour drive ahead of us to make it back to Denver in time for our 9pm flight. Amy hadn't ever been to Montana and we were quite close, so we decided to take a state highway into Montana to drive south into Wyoming. Yet another lesson learned about gravel roads. About 50 miles this time. Yikes.

We took a photo of Capitol, Montana, where you are seeing the entire town in this photo. I still can't believe it is even on a map. There was a barn. And some piles of hay, as opposed to the rolls of hay in South Dakota and Wyoming. HAY!!!!!!
More images of Montana, via gravelly state highway.


I'm guessing this church is closed - it was a few miles outside of Capitol. I've done some research and can't find what happened to Capitol, MT. Anyone know? Why doesn't anyone live there? Other than the obvious answer, that no one else lives there.

Want to send your kids to school? Well here's the school district building. Seriously. This was in the middle of nowhere. Please note the swing set. Please also note the BIG SKY! Hello, Big Sky Country, Montana!
For hours and hours we drove. We got into Wyoming. Amy started noticing fresh cow patties on the highway and we couldn't figure out why. Then we came upon this scene. We were stuck getting through it for at least 10 minutes.

For a video, here you go:
Soon we were driving past our old friend, Devil's Tower again. Our plan wasn't originally to go into Montana, so we didn't know we'd be driving past it twice! Bonus!
Amy had also never been to Nebraska and if we were on a trip to make dreams come true, we were going to get her there. Ladies and gentlemen, here she is in Nebraska.
And after taking that photo, we laughed upon seeing our car after driving on gravel roads for a few days.
Amy also wanted to take a photo of something that would remind her of Nebraska. Wait for it....yep, junked cars in a field. Maybe you could say that this also reminds you of places like South Carolina or Kentucky, but this is Nebraska; Scout's honor.
And a few hours after that, we were eating Cafe Rio in Denver and sitting on an airplane on our way home. South Dakota, I was pleasantly surprised by you. North Dakota, it was nice seeing you, but have a nice life.
If you'd like to see all 200 photos,
click here
.